Blue's Chews (Horse Cookies)
Kiwiwife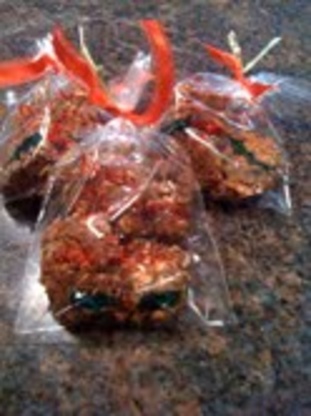 This is an extremely simple horse cookie that I developed for my special boy, Blue. Try them, they are so much cheaper to make than buying those ridiculously priced ones at the tack shop! As a matter of fact, you could probably even whip up a batch in the time it takes just to get there!

I made these, with a few changes, for all the horses at my barn as Christmas presents! I used flax & sesame seeds and instead of carrots, I used dried granny smith apple chips, crushed. Also, only had creamed honey and added a TBSP of kosher salt. I used a melon-baller and then flattened with a glass. I got 60 treats out of the recipe. Thanks for sharing. I anticipate lots of happy ponies :)
in a large bowl, mix together the first 5 ingredients.
in a smaller bowl, combine the applesauce, honey, and molasses.
pour the wet ingredients over the dry and mix with a wooden spoon. (batter will be tough).
if you are having trouble getting all of the ingredients to combine, add in small amounts of water and continue mixing until all of dry ingredients have been incorporated.
roll batter into golfball-sized balls and place on a cookie sheet.
flatten each ball with either your hand of the bottom of a measuring cup.
bake at 350 for 15 minutes.