Blueberry Pecan Muffins Using Food Processor
diner524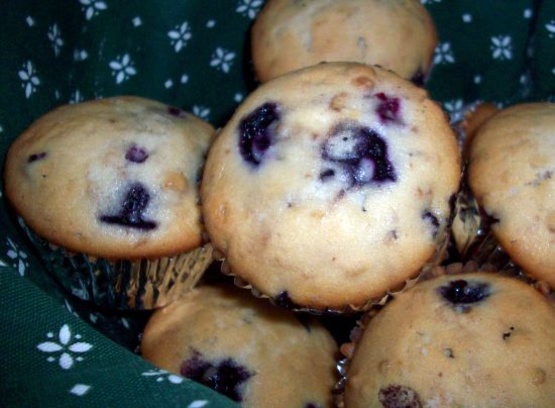 Entered for safe-keeping, just got a heavy-duty 12-cup food processor. From George Geary's "125 Best Food Processor Recipes". He warns that 1) if the berries are thawed before adding to the batter, they can turn it an unpleasant blue color and 2) if you use butter instead of shortening, your muffins will not be as flaky. The cooled muffins can be frozen in a resealable plastic bag for up to 30 days.

I made two batches of these one with nuts and one without and they were great! I did use butter flavored Crisco and I also followed the directions and used cake flour as well. I also pay more for it but I use Spice Islands Pure Vanilla and the flavor shows. Mine were not doughy at all. This is a keeper.
Preheat oven to 375 degrees Fahrenheit or 190 degrees Celsius.
Spray 12-cup muffin tin with non-stick spray.
In work bowl fitted with metal blade, pulse pecans until coarsely chopped, about 5 seconds. Transfer to a small bowl. Set aside.
In same work bowl fitted with metal blade, process sugar and shortening until smooth, about 30 seconds.
With the motor running, add eggs, milk and vanilla through the feed tube.
Remove lid and add cake flour, bkaing powder and salt. Cover and pulse just until incorporated, about 10 times.
Transfer sugar-flour mixture to a large bowl. Fold in pecans and blueberries.
Divide batter evenly into prepared muffin tin.
Bake in preheated oven until a toothpick inserted in center comes out clean, 18 to 22 minutes.
Let cool in tin on a wire rack for 15 minutes.
Transfer to rack to cool completely.
Once completely cooled, muffins can be frozen in resealable plastic bag for up to 30 days.