Blueberry Cranberry Muffins
Brenda.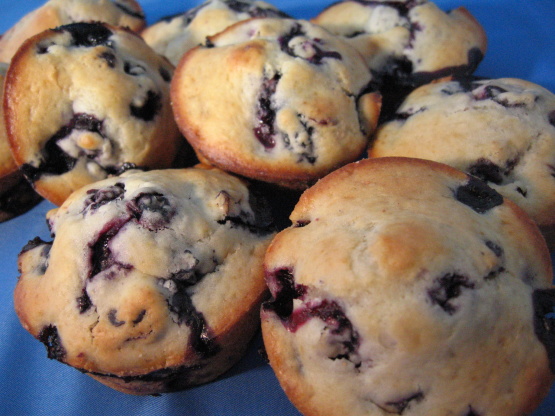 From http://www.foodreference.com. Prep and cooking times guesstimate

The recipe doesn't mention the cranberries or sour cream in directions so if you try this recipe don't forget to add them. The positive side of this recipe is that it will make 30 good size muffins. The negative is that they are really really blah and I use really strong tasting wild picked blueberries not frozen from store. I really like the idea of cranberries though so I'm going to try it with my favorite (The Best Blueberry Muffins Recipe #50719).<br/> I'm going to try and freeze these in the hopes that kids might eat them if running late. Doubtful.
Line 24 muffin cups with paper liners and set aside.
Preheat oven to 400º F. In a large mixing bowl, combine flour, 1/2 cup sugar, baking powder and salt and stir to mix.
Combine milk, oil and eggs in a medium bowl and beat with a wire whisk until blended.
Make a well in dry ingredients and pour the liquid ingredients into the well all at once. Stir until just moistened.
In a medium bowl, combine 4 tablespoons sugar and blueberries and toss to coat with sugar.
Stir gently into batter just until blueberries are distributed.
Spoon batter into muffin cups, filling 3/4 full. Bake at 400º F for 20–25 minutes, until light golden brown and firm to the touch.
Let cool on wire rack 3–4 minutes, then remove muffins from pan and cool completely on wire rack. Store tightly covered at room temperature.