Blueberrries With Lemon Cream
Rita1652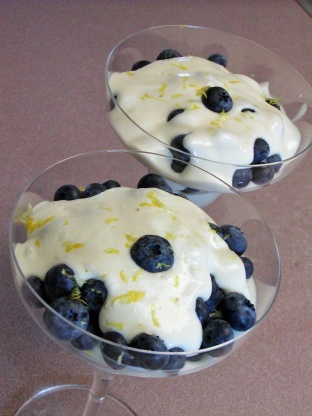 Blending vanilla yogurt and reduced-fat cream cheese creates a topping that is as virtuous as it is delicious. Any fresh berry would be lovely in this recipe. The recipe is courtesy Eating Well.

Barb Thanks for having us eat well with this recipe which made me feel like I was cheating! Just love the honey in it! I blended the cheese and yogurt mixture. looking at it now I wish I added some mint. Rich goodness, creamy smooth, lite and fresh! Thanks!
Using a fork, break up cream cheese in a medium bowl;Add yogurt and honey to cream cheese.
Using an electric mixer, beat at high speed until creamy, add lemon zest.
Layer lemon cream and blueberries in dessert dishes or wine glasses.
NOTE: This can be made ahead; the dessert will keep, covered, in the refrigerator for up to 8 hours.