Prep 12 mins
Cook 10 mins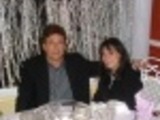 One basic can of beans is the short cut you need to get this on the table fast. From Good Food Magazine September 1988
2 tablespoons olive oil
1 large onion, thinly sliced
3 large garlic cloves, minced
1 fresh jalapeno pepper, seeded, finely chopped
1 (14 ounce) can plum tomatoes, drained, chopped
1⁄3 cup water
1 tablespoon red wine vinegar
2 teaspoons ground cumin
1⁄2 teaspoon cayenne pepper
1⁄2 teaspoon dried oregano
1⁄2 teaspoon salt
1⁄4 teaspoon fresh ground pepper
1 lb medium shrimp, peeled, deveined
1 (15 ounce) can black beans, rinsed
1⁄3 cup chopped fresh cilantro
sour cream, for serving
Directions
Heat oil in large heavy skillet over medium-high heat.
Add onion, garlic, and jalapeno; cook, stirring occasionally, until softened, about 5 minutes.
Stir in tomatoes, the water, vinegar, cumin, cayenne, oregano, salt, and pepper.
Simmer covered 5 minutes.
Gently stir in shrimp and cook just until pink, 2-3 minutes.
Stir in beans and coriander and heat through.
Serve hot or at room temperature, topped with a dollop of sour cream.
Reviews
Most Helpful
It would taste so good without all the heat. I will probably make a very similar variation of this again without so much jalepeno and ceyenne.
This was very good! I made 3 slight changes - small not large onion, half the cayenne, and parsley not cilantro. I made this for company and we all really enjoyed it with some flat breads to mop up the juices. I did forget the sour cream but it wasn't really missed. Thanks for the recipe Jackie!

This is very good! With just the right amount of spice. It is a bit onion-heavy, which if you love onions, like I do, is fine. But I'd understand if some people may want to cut back a bit on the onions. I've made this several times now and it's delicious every time.