Black Beans and Yellow Rice

VERY SIMPLE- that's the way my fiance like his food (not me, of course, or I wouldn't be a member).
Directions
While cooking yellow rice.
Melt butter in beans.
When rice is cooked, add to beans.
Most Helpful
I thought this was great! I did add some corn, green & red peppers, and some onions to the rice (YUMMY) for added color and flavor. I like a simple recipe that I can alter to suite my tastes, and this recipe fit the bill. Thanks for posting, kellychris! Gnomes rule!

I made this exactly as posted and it was very tasty in its simplicity. I makes a pleasant side dish that complements a spicy meal. I will be making this again. Thanks for posting. Made for ZWT5 Potluck Zingo by a fellow Groovy GastroGnome.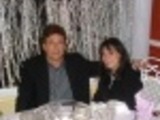 I made this a bit more flavorful by adding Penzey's Singapore seasoning and kosher salt. Hope your man doesn't mind my modification of his recipe! I served this with Creole Salad, Recipe #373005 and Jerk Chicken made with Recipe #374044. Prepared for ZWT5 Team Jammin Java Jivers.