ATM 67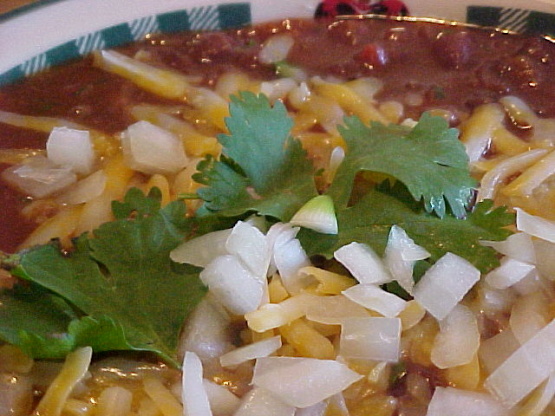 This recipe is a keeper because it's different than other chile recipes, it's VERY easy and VERY healthy, and everyone loves it.

I prepared this as a side dish to Garlic Beef Enchiladas #18387 so altered the recipe slightly. I had black beans in the freezer & used them. The difference was I only added 1 can of rotel tomatoes instead of the 5 called for in the recipe. I also decreased the cilantro to 1/2 cup. I really liked this recipe & will use it again to serve with Tex-Mex food as an alternative to refried beans. Thank you for sharing your recipe!
Saute onion and garlic in olive oil.
Add jalapeno pepper, if desired; this chile is spicy enough for most people without the jalapeno.
Combine all ingredients, except the cilantro, in a pot or crockpot.
Cook on low heat until the chile is warmed through.
Add cilantro about 15 minutes before serving.
Leftovers can be frozen and reheated later.