Black and White Enchiladas
Kim127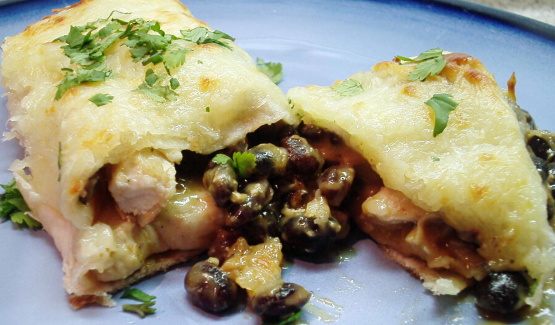 Smothered in white cheese and filled with blackened chicken and black beans, these enchiladas are one of the most popular dishes at PR's Taco Palace in Winter Park, Florida. I created my own version and I like it even better than theirs! At the restaurant it's served with refried beans and rice, but I think a fresh salad is a better complement. Enjoy!

Top Review by sjf17x
Not bad, not bad at all. However, needs something more. Try adding some lime juice when marinating the chicken - half a lime. Second, marinate a bit longer. Third, before you cook anything, caramelize some onions. Set aside. Add back in when you add the chicken in. And add a shot of tequila, the other half of the lime (juice), and the black beans at this stage. Saute for about 5 min to incorporate everything. Lastly, since the sauce does not make a thick sauce, and enchilada's should never be filled with more sauce then substance, drain the chicken and black beans with a slotted spool - set aside. Place the remaining sauce in another bowl. Assemble the enchilada's as directed. Spoon some of the sauce on top, then the cheese. And lastly.. add some cilantro... a whole bunch, chopped, on top of the cheese. Bake covered with foil on 325 for 20 min. Thats it. A much better, detailed recipe. I also adjusted the so called blackened seasoning. Cayenne pepper is not needed. Just use some creole seasoning, chili powder, black pepper, garlic powder and paprika. Zatarins makes a really good hot, but not too spicy, Creole seasoning. And lastly, cook to taste. The way I made this, it has a slight kick - a heat "taste" when you eat it, not not hot.. if that makes any sense.
1 3⁄4 lbs boneless skinless chicken breasts (two hand-trimmed breasts)

3

tablespoons chili oil (I used Boyajian brand roasted chili oil but olive oil would work)

1

tablespoon tequila
1⁄2 teaspoon chili powder (increase to 1 tsp. if you like very spicy food)

2

tablespoons blackening seasoning (I used Paul Prudhomme's Poultry Magic)
1⁄2 teaspoon cayenne pepper (increase to 1 tsp. if you like very spicy food)

1

teaspoon black pepper

1

teaspoon paprika

1

tablespoon olive oil
1⁄4 cup flour
1 1⁄2 cups low sodium chicken broth

1

(10 3/4 ounce) can low-fat condensed cream of chicken soup (I used Campbell's Healthy Request which is 98% fat free)

1

(15 1/2 ounce) can black beans, drained and rinsed (1 3/4 cup black beans if you soak dried ones overnight)

3

g non fat cooking spray

8

ounces shredded monterey jack cheese
Cut chicken in thin strips that are quite small, bite size!
Combine with chili oil and tequila in a quart size ziploc and marinate in the refrigerator.
While it's marinating, measure out the five spices and stir them together in a small dish.
Put a skillet on your stove's high setting and add the chicken; sprinkle half the spice mix over the top and cook for five minutes total - flipping the chicken and shaking the rest of the spices on top halfway through.
Remove pan from the heat and turn the heat down to low; move the chicken from the pan to a bowl.
Return the pan to the heat; add the 1 T olive oil and scrape the blackening spice residue into it, then shake in the flour to create a roux; then carefully pour in the chicken stock, stirring continuously to create a smooth sauce.
Add the can of condensed chicken soup and stir together until heated.
Add the black beans and chicken to the sauce in the pan; stir until heated and thoroughly mixed.
Grease a 15" x 10" pan (or two 8" x 8" pans) with cooking spray so the enchiladas won't stick.
Prepare the enchiladas, scooping 1/8 of the mix onto each flour tortilla, then folding in the ends and rolling very tightly; place seam side down in the pan.
Sprinkle the cheese over the top and cover with foil (note that to make this like the restaurant you would literally need to use a whole pound of cheese); place in the refrigerator until you're ready to cook.
Bake at 375 degrees covered for 15 minutes, then remove the foil and bake another 5-7 minutes. Enjoy!