diner524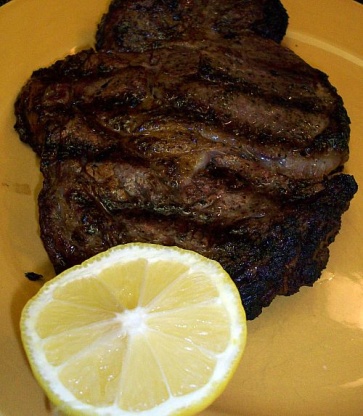 Absolutely delicious. So simple yet so elegant. Be sure to use the best cold-pressed extra-virgin olive oil available and only kosher salt.
I generally cook very lean steaks and on an indoor contact grill which can leave them dry and pretty unappealing. I tried this recipe last night and the difference was remarkable! When they were done, I scored them lightly before adding lemon juice and more EVOO then tented them with foil to rest. They were moister, had more visual appeal and the hint of lemon was just spot on! Thanks for sharing your recipe! I will use it often!
Trim excess fat from steak.
Allow to stand at room temperature for 30-45 minutes before grilling.
Brush or spray both sides of steaks with 2 tablespoons of the olive oil.
Season with salt and pepper, pressing into meat.
Grill over Direct High heat until the internal temperature reaches 145 degrees F for medium rare, (8-10 minutes), turning once halfway through grilling time.
Remove from grill, squeeze the lemon wedges over the top, and drizzle with remaining olive oil.
Allow to rest for 5 minutes before slicing.
Enjoy.