Bisquick Egg, Sausage and Mushroom Casserole
PaulaG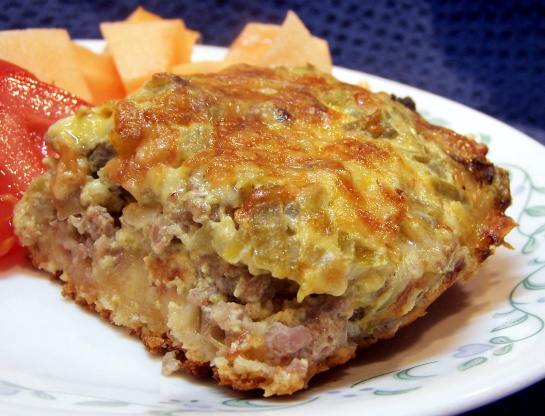 I made this recently, it was really good! I added in some cayenne pepper to the sausages, but that is optional. Use the small pork breakfast sausages for this or you can use Italian sausages, casings removed.

I was looking for something to make for dinner using ingredients that I had on hand- this is the recipe I chose. I changed the recipe as follows: I did not have any sausage so I didn't use any. I added mayo to the bread part only and added milk to the egg/cheese mixture. I didn't have the full 3 cups of cheese on hand and I didn't add any chilis. I made this into muffins, rather than one big casserole. I added one more egg than what was called for and I still felt the dish was not "egg-y" enough. The dish tasted moist and the added onions and garlic helped with the taste.
Set oven to 375 degrees.
Butter a 13 x 9-inch baking pan.
In a bowl stir together Bisquick mix with milk and 4 tablespoons mayo; whisking vigorously to combine; spread into the baking dish (the batter will be thick).
In a skillet brown the sausage, onion and garlic with 3 tablespoons oil; (crumbling the sausage with a wooden spoon as it browns)season with pepper to taste.
Sprinkle the sausage mixture evenly over the Bisquick batter in the baking dish, then sprinkle the sliced mushrooms over the sausage mixture.
In a bowl whisk eggs with 1/3 cup mayonnaise and chilies until well blended.
Add in the shredded cheese; mix to combine, then spoon over the meat (you don't have to cover completely).
Sprinkle with grated Parmesan cheese.
Bake for about 35-40 minutes.