Bird's Lemonade Stand Parfaits
Cuistot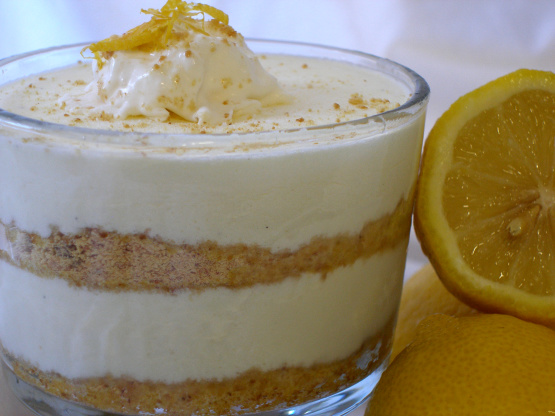 For kids and lemon lovers alike.

Though I used low-fat vanilla ice cream, these made for a nice change of pace tonight, as an after dinner/ treat dessert. Wouldn't change a thing here except make it again on a warmer day.. Made for PRMR tag.
Place graham cracker crumbs and granola into food processor. pulse until well mixed and crumbly. Set aside.
Stir drink mix and water until dissolved. Beat lemonade mixture and ice cream in large bowl with electric mixer on low speed until blended. Gently fold in whipped topping until smooth.
Place half the crumbs evenly into bottom of 4 parfait glasses. Spoon half of the Lemon mixture onto crumb mixture. Repeat with a layer of crumble mixture, then top lemon mixture.
Freeze 2 hours until firm. Garnish with lemon slices.