Bird's Famous Macaroni and Cheese (Lite)
lazyme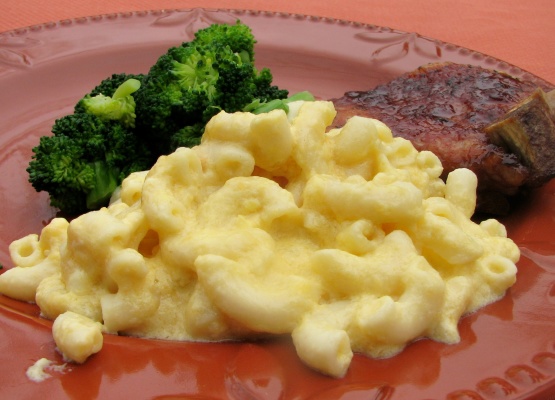 This is a lighter side of my Bird's Famous Macaroni and Cheese and prepared in a slow cooker. I've reduced the calories down from 616, fat down from 38g, and carbs down from 44.5g.

My mac-&-cheese loving neighbor couple had their 2 grandsons visiting them for a couple of days, & since they're housebound, I made this just for them, & took lazyme's hint about the cheeses & the milk! And, from the great complements they all gave me (several times!) I can only assume that you've got a real winner here! In fact, I now have it on my kitchen schedule for next week so I can make it again when my vegetarian son & DIL come by for a meal! Thanks for sharing the recipe! [Tagged & made in Please Review My Recipe]
In a medium saucepan, mix margarine and milk. Add the cheeses and cheese soup until the cheeses melt.
Add the eggs, sour cream, mustard, salt, and pepper and stir well.
Add macaroni and stir again. Set the slow cooker on low setting and cook for 3 hours, stirring occasionally.