K9 Owned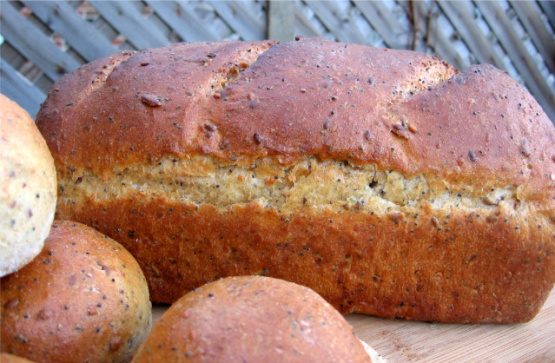 How funny to find this recipe! I love whole grain breads, and my son has always called "my" bread bird seed bread! Recipe comes from Stonyfield.

First I am a complete novice at breadmaking but am/was determined to keep at it until I got it right and found a loaf I want to eat on a regular basis. This is it! I swapped out the quinoa and wheat germ for additional flax, sunflower and sesame seed keeping the quantities of the add in the same. Because I haven't a clue what I am doing I followed Kerfuffle Upon Winkles alterations by using sour cream instead of yoghurt (which I didn't have) and added 1 tsp of lemon juice and some Vital wheat gluten. Because I baked it in a pan I got a full sized loaf and six dinner rolls from the recipe. I could not be more pleased with this recipe and expect I will be making it weekly from here on in. Thanks so much!
Start at the top (recommended) or the bottom of the list, and put all the ingredients into the bread machine. Just make sure the salt and wet stuff stays away from the yeast until it mixes. If you like the old fashioned way, that will work too - just use your usual process.
For rolls, use the dough cycle. When that cycle is done, dump it out on a floured surface and cut everything into even quarters, twice. Put the wads, evenly spaced, on a lightly oiled cookie sheet. Let them rise once more in a warm area covered with waxed paper for a half hour or a little longer until they have roughly doubled in size, depending on how knocked down they got while cutting. Cook in an oven, preheated to 375 degrees, for 20 minutes or until they are nicely browned top and bottom. Brush with melted butter if desired.