Bill's Mozzarella and Basil Fritters
loof751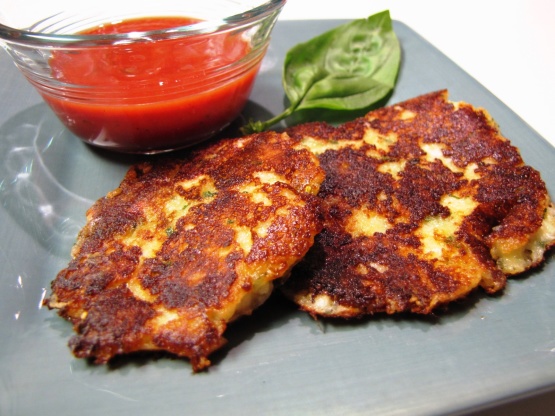 Made these the other day and I think they are fantastic. Based on a recipe of William Granger. These are best served with you own fresh made Italian tomato sauce along with some basil leaves and rocket salad

Amazingly good dish! Made half of the recipe, just as specified, and wouldn't change a thing. I used just a thin sheen of olive oil to cook these and they came out crispy and delicious. I made a dipping sauce of tomato sauce, garlic and crushed red pepper flakes and really enjoyed these. Easy to make with restaurant-quality results - thanks for sharing the recipe! Made for the Best of 2010 Event (recommended by alligirl)
Place all the ingredients except the oil into a bowl and mix well to combine.
Shape the mixture into 12 small patties and refrigerate for at least 1/2 hour.
Heat the oil in a large non-stick fry pan on medium high heat and fry the fritters for a few minutes on each side until they are nice golden colour.
Drain on paper towel and keep warm in a low oven while cooking the remaining fritters.