Better Than Pumpkin (Uses Butternut Squash) Pie
Annacia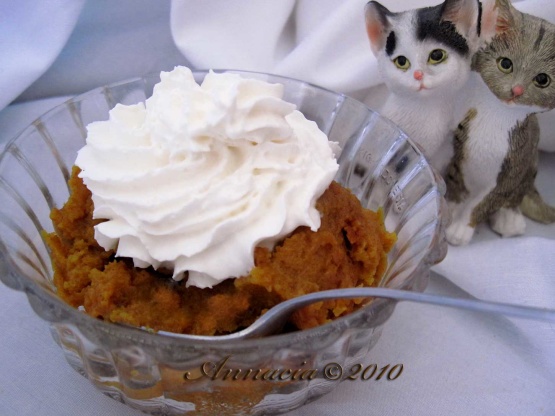 This looks like pumpkin pie, tastes like pumpkin pie but it is butternut squash. Perfect for those gardeners who grow squash instead of pumpkin. My boys can't tell the difference.

This was a real treat for dessert tonight. I made just the custard to avoid the fat in the crust. For the cup of sugar I used 1/4 cup of Splenda Brown Blend and 1/4 cup of Splenda granulated then an organic free range egg and fat free evap milk. It wasn't firm enough to cut and serve as a pie wedge, no problem there is nothing wrong with the scoop and serve method. I can't say that it truly tastes like pumpkin, but then it isn't pumpkin, it's butternut squash and it has it own wonderful flavor that is so easy to enjoy.
Preheat oven to 350 degrees.
Mix butternut squash, brown sugar, cornstarch, egg, milk, cinnamon, allspice, cloves, ginger and nutmeg.
Pour into unbaked pie shell.
Bake for 50 minutes or until done.