Best Ever Baked Beans (Crock Pot)
Lainey39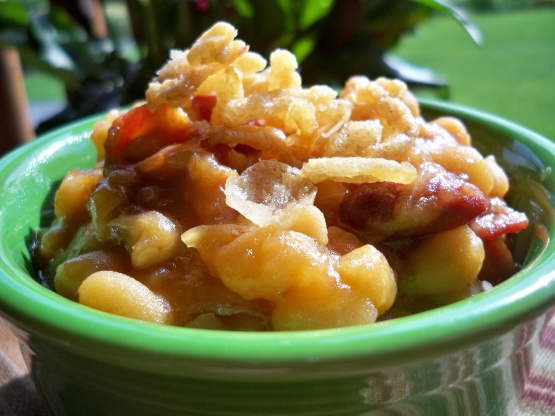 These are a hit at my house for even those that aren't fans of baked beans. I think it's the bacon that adds the x-tra somethin somethin. Or maybe the french fried onions. This can also be done in the oven and so reduce the baking time to 1 1/2 hrs.

Oh dear, it just occurred to me why I had a problem with this dish last night. When I bought the ingredients, I assumed we were starting with dry beans. I did realize before starting that it should have been canned beans, so I cooked the beans in the pressure cooker (took about 1 1/2 hours), then put them in the crockpot with the ingredients. The end product was much too mild, but I realized this morning that I weighed the beans dry. I must have had way too high a ratio beans to other ingredients. I ended up adding more and more of the other ingredients at the end along with salt, but since they didn't have time to soak in, it tasted a little hollow - my fault, not Coffeebaristas. So sorry!
Fry bacon until it's almost done.
Mix all ingredients together using only 3/4 of the can of french fried onions.
Cut up the bacon into bite size pieces.
Add bacon.
Place crock pot on low for 6 hours
1/2 hours before it's done place remaining onions on top.