Beet Root and Apple Raita
awalde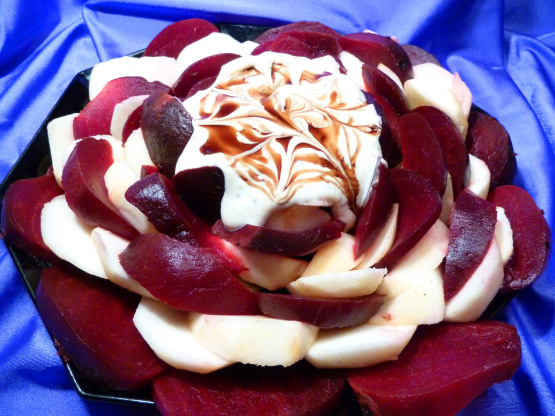 This fresh and light salad is inspired by the apple season and our holidays in India. Cumin, coriander, black mustard and pomegranate syrup give to this plate an exotic note.

Adding the ground spices seems redundant. I would add either whole or ground but not both and my first choice would be the whole spices (which were lightly crushed in a pestle and mortar). A big change I made in this recipe was using raw beets and they were of excellent quality, locally grown organic ones and small. Served over mixed greens and has a wonderful taste although messy to prepare. Thanks for posting. Reviewed for Veg Tag January.
Join the roots and the apples cubes (slices are fine too) in salad bowl.
Roast coriander, cumin and mustard seed in the oil until it smells nice.
Mix well the remaining ingredients with the roasted seeds in a small separate bowl.
Put the mixture on the cubes, add some drops of pomegranate syrup on top and decorate with a knife.