Beef Casserole With Herb Dumplings
DJoy5847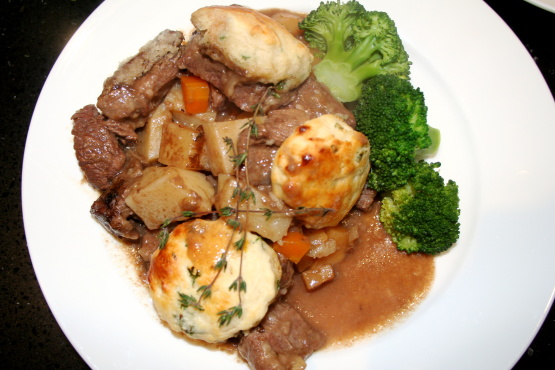 This is clipped from an Australian Women's magazine. The aroma while in the oven was wonderful. My family enjoyed the subtle herby flavours and tender meat. Although the recipe calls for 12 garlic cloves, that flavour was not overpowering as they were cooked whole. The buttermilk dumplings were melt in the mouth. Overall however the flavours were somewhat subtle and I will add something more next time....
Cut beef into 2 1/2cm cubes. Toss in flour to coat all over, shaking off any excess.
Heat half the oil in a large flameproof casserole dish (20 cup capacity). Cook beef, in batches, until browned all over. Remove from dish.
Heat remaining oil to same dish. Add onion, carrots and garlic. Cook, stirring, until onion is soft. Add wine. Simmer 1 minute or until sauce thickens. Whisk in stock until smooth. Return beef to pan with swedes, potatoes and thyme. Bring to boil.
Cook, covered, in a moderately slow oven (160C) for about 2 hours, or until beef is tender, stirring occasionally during cooking.
Meanwhile, to make dumplings, place flour, salt and pepper in a large bowl. Rub in butter until mixture resembles fine breadcrumbs. Stir in parsley. Using a butter knife, stir in milk until mixture forms a firm dough. Turn dough onto a floured surface. Roll dough until 1 1/2cm in thickness. Using a 5cm cutter, cut 12 rounds from dough, rerolling dough if necessary.
Remove casserole from oven. Carefully discard thyme sprigs. Arrange dumplings over top of casserole and brush with a little extra buttermilk.
Cook, uncovered, in a very hot oven (240C) for about 20 minutes, or until dumplings are golden brown and cooked through.
Serve garnished with extra fresh thyme.