DeeDee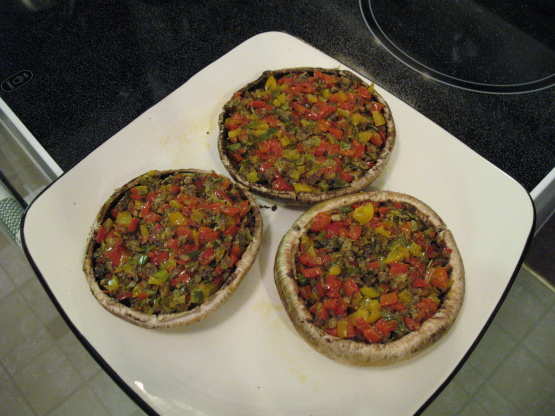 I make BBQ's portabella pizza's for my vegetarian daughter.

Top Review by DeeDee
I've made this a couple of times and my DH and I love them. Some portobellos can be so thick they don't get cooked all the way through, so I found that if I grill them first (about 2-3 minutes a side) before stuffing them, they are cooked better. I add fresh chopped hot peppers from our garden to spice things up because that's what we like. We eat 2 each as a main meal with a salad and we're completely satisfied. I added fresh garlic but only after the mix is sauted. The flavour of garlic comes through much stronger when it's not cooked. We LOVE garlic! I also added salt & pepper. This is a real nice and easy meal.
Clean off the portabella cap, and cut stem close to cap, chop stem.
Gently heat the olive oil in a saute pan, then add the peppers, onion, and stem ( I've added cubed tofu at this stage too) Saute all together until just tender Set the peppers, etc. aside for a moment and use a pastry brush dipped in the flavored olive oil in the bottom of the pan to oil the portabella cap ( both sides) Then, with the top side of the cap down, put all the peppers, etc. on the underside (up), transfer to the grill and cook for about 3-4 minutes.
Put the cheese onto of the peppers, and grill until melted.
Really good, I even like this, and I'm a confirmed carnivore! Vickie.