Basic Dough (For Spinach, Meat, and Cheese Pies) Middle East, Pa
awalde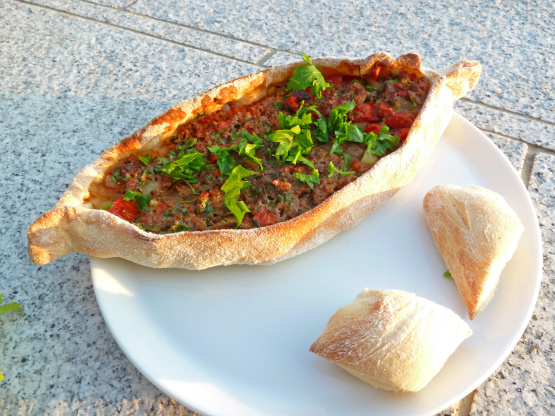 This recipe came out of my Sahtane Middle East cookbook. It calls for water, but I replaced the water with milk, and I liked it much better. Also, when I put the dough to rise for the second time, I put olive oil underneath the balls and coated them with olive oil as well. This gives the dough an extra kick of softness, and when it bakes it comes out incredibly delicious!! I am going to post the filling for these in a seperate recipe, but I believe this dough can also be used for pizza as well as a number of other things!

Top Review by awalde
Thanks for posting this recipe!
I used a mix of "normal2 flour and durum flour (half half, total 1 pound) and more than one cup of water (about 1 1/3). With this dough I prepared 9 balls and as they doubled the volume I prepared 8 small lahmacun (turkish pizzas) and with the last ball I prepared small breads.
All this came out delicious and soft. My family foud the dough really good too.
Dissolve yeast in 1/4 cup warm water (or milk). Sprinkle with sugar, cover, and let rise.
In a large pan mix flour and salt. Add the yeast mixture and butter/shortening.
Gradually add the lukewarm water, mixing and kneading until dough is smooth and tender.
Cover with a blanket and put in a warm place for two hours or until dough rises.
Cut dough into pieces 2" to 2 1/2" in diameter. Form into balls by tucking the dough underneath the balls to make them round and smooth. Let rest for 30 minutes between blankets. (This is where I spread the olive oil under the dough, and coated the ball with olive oil as well. I also left it uncovered. ).
This dough is now ready to be used with various fillings. :).