Barbeque Beef in Biscuit Baskets
flower7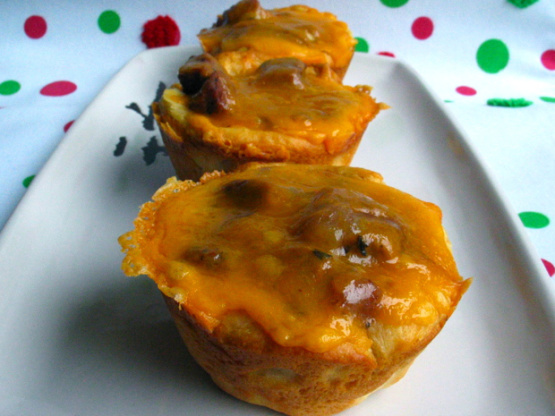 This is a real kid pleaser! What kids don't like barbeque? The biscuit baskets make these fun and the filling absolutely melts in your mouth.

For taste, this gets 5*, but because I had some issues, I had to downgrade a little. I'm thinking I must have used the wrong biscuits (I only found 12 oz, 10 ct or 16.3 oz, 8 ct; I used the second one) because they were huge and puffed up a LOT. I also had enough meat for at least two (maybe 2 1/2) cans of biscuits. I didn't use quite all of the onion and the cheese wasn't listed in the ingredients so I used what I had on hand (a Mexican blend) and just as much as looked good. I used my favorite hickory bbq sauce and liked the way the basil tasted with the sauce. I did not microwave the biscuits at all before putting them into the tins. I think this recipe has promise and with some minor adjustments (or clearer ingredients) I would certainly make it again.

Update: I had so much beef left over that I froze it until I had a chance to make more baskets and this time used a 12 oz, 10 ct can of biscuits (and I still have enough beef for another 1/2 can of biscuits) and sharp cheddar cheese. The smaller biscuits made more reasonable sized baskets, which I enjoyed more. Thanks for sharing and good luck in the contest!
2

lbs beef tips, cut into small bite size pieces

1

tablespoon olive oil

1

large vidalia onion, chopped

1

cup barbecue sauce, red (we like Sweet Baby Rays)

1

tablespoon dried basil
salt & pepper

1

(10 ounce) can refrigerated biscuits (8 count)
Heat the olive oil in a large pot. Brown the beef and onions together in the oil. Add the barbeque sauce, basil, salt and pepper. Turn down to a simmer and let cook for 1 hour (can cook for longer if necessary, just keep on low heat). Preheat oven to 350 degrees. Open biscuits can and place individual biscuits on a large microwave safe plate. Heat biscuits for 40 seconds on 50% power. This makes them soft for easy shaping. Spray large muffin tin (bakery sized muffins) or custard cups with non-stick cooking spray. With your hands flatten out each biscuit and press into each muffin cup or custard cup (if you use large muffin tin you will need 2 custard cups as the canned biscuits come in groups of 8). Cook the biscuit baskets in oven for 15 minutes. When you remove from the oven use the back of an ice cream scoop to press the biscuit basket into the tin to flatten out as much as possible. Divide up the barbeque beef between all the biscuit baskets. Sprinkle a little cheese on top of each. Cook in 350 degree oven for 10-15 minutes until cheese is melted.