Barbecue Shrimp and Sugar Snap Pasta Salad - Clean Eating
teresas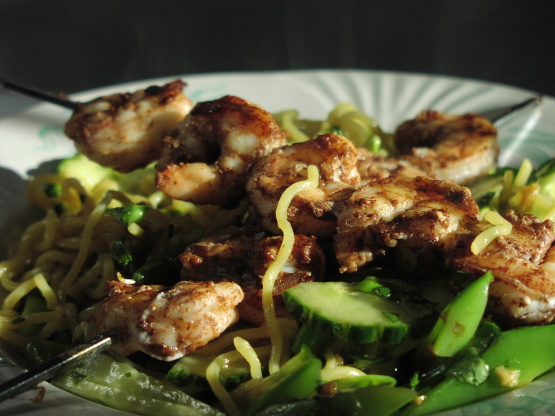 This is out of a Clean Eating magazine.

Made this for the 2 of us & after a big dinner there was enough left for my other half to take to work the next day! Great tasting salad ~ We especially enjoyed the gingery dressing with the shrimp! Thanks for sharing the recipe ! [Made & reviewed in 123 Hits tag]
Preheat barbecue to medium-high.
Toss shrimp with five-spice powder and olive oil.
Thread onto skewers.
Let marinate while preparing salad.
Boil sugar snaps until tender-crisp, 2 minutes, then drain and rinse with cold water.
Slice lengthwise into julienne strips (be careful-some of the peas pop out).
Boil noodles just until tender, about 5 minutes, then drain and rinse with cold water.
Drain well.
Place in a large bowl with sugar snaps.
Slice cucumber in half lengthwise (scrape out seeds if you wish).
Thinly slice, then add to noodles along with basil, cilantro and julienned ginger.
For the dressing place grated ginger in a small sieve set over a bowl.
Using the back of a spoon, firmly press ginger to release juice,.
Discard grate ginger. Stir in garlic, soy sauce, oil and honey.
Pour over noodle mixture and toss to evenly mix.
Barbecue shrimp, 2 minutes per side.
Divide noodles among four bowls and top each with a skewer.