Barbecue Cashew-Chicken Pizza With French-Fried Onions
vrvrvr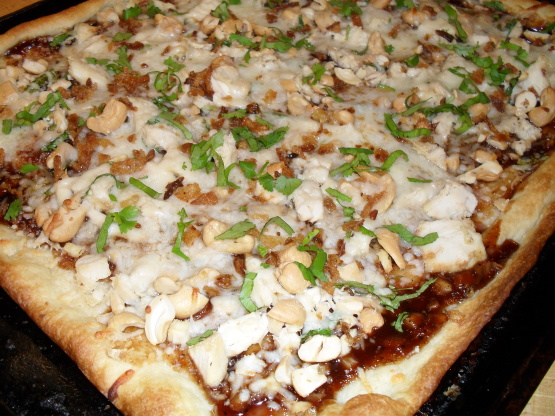 I love bbq chicken pizza, cashews, and french-fried onions, but have never had all of it combined until I tried this. Recipe from Pillsbury.

I'm Snapdragons mom and I have to agree with her review. This was an incredible pizza, I made it again for her brother who demaded that we have this often. I used my homemade BBQ sauce, and its easy to throw together. I didn't mix the onions into the sauce as my daughter doesn't care for raw onions, so I was able to sprinkle them on half. I found making it on a pizza pan resulted in a crisper crust. We for sure will be making this again.
Heat oven to 400°F Spray 13x9-inch pan or 12-inch pizza pan with cooking spray. Unroll pizza crust dough on pan; press dough to edges of pan. Bake 7-8 minutes or until golden brown.
Meanwhile, in medium bowl, mix barbecue sauce, jelly, pepper and chopped onion. Spread evenly over partially baked crust.
Top with chicken, cashews, chopped cilantro and cheese.
Bake 7-8 minutes longer or until cheese is melted and crust is deep golden brown.
Sprinkle French-fried onions over pizza. Bake 2-3 minutes longer or until onions are golden. Garnish with cilantro sprigs.