Bananas 'n Cream Bundt Cake
Prep 20 mins
Cook 50 mins
This great cake was shared by a fellow poster named Carmen on a cooking board I frequent and was quite the hit with those who tried it, myself included! This originally came from a Taste of Home publication submitted by Oma Rollison. This is terrific and needs no frosting making it a perfect snack cake.
Directions
In a mixing bowl, cream together shortening and sugar.
Add eggs, one at a time, until well blended; stir in vanilla and bananas.
In a separate bowl, combine flour, baking powder, baking soda and salt.
Add to banana mixture alternately with sour cream.
Stir in walnuts.
Pour into a greased and floured 10-inch bundt pan.
Bake at 350° for 50 minutes or until cake tests done.
Cool, then dust with confectioners' sugar before serving.
*UsefulTip: Or replace sour cream with 1 cup of banana yogurt or vanilla yogurt.
Reviews
Most Helpful
It was delicious! I did not add any nuts since my family does not like them, but in its place added Chocolate chips. It came out great! Very moist cake that is not rich and gives you the full feeling and it did not induce any guilt feelings since I only used chocolate chips. :) It was great for after school snack with some milk for my middle school kids.
10 stars!! So moist and flavorful. We all loved it. The kids have made me promise to make it again soon. :) The only thing I did differently was to use only 1 cup of sugar and omit the walnuts (I was out). It turned out beautifully! Thanks for posting!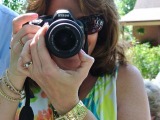 This is the recipe I never knew I was looking for. I don't think I will be inclined to make banana bread when this cake is much better and really not as much fat as most banana bread recipes. More often than I should, I buy more bananas than we can use. Now I may do it on purpose! I used pecans instead of walnuts because that's what I had but I do think walnuts would be better. I also made a little powdered sugar, vanilla glaze that I poured over the cake while still warm. I'm not going to admit how many pieces I ate last night but I will hit the gym a little harder today. Thank you for posting this recipe.

Thanksgiving Tips & Ideas >