karen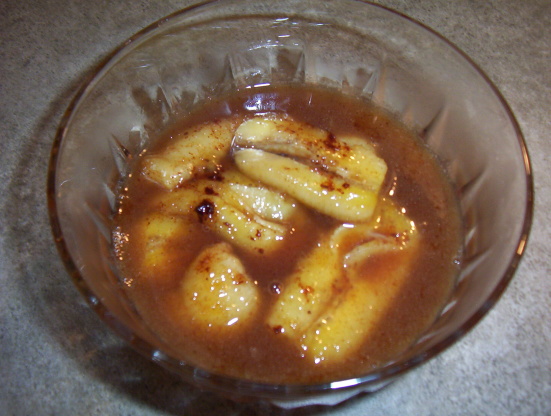 A popular dish in the south, these are very easy, and a pretty dish from Guilt-Free Desserts cookbook. Kids love them.

Top Review by karen
Very easy, quick & yummy. I used Jamaican Dark Rum and ate the bananas plain...no need for ice cream, though I'm sure it would be great that way too! I expected the alcohol flavor to burn off a little more than it did, but maybe that's because I used the dark rum.
Cut bananas in half crosswise, and then lengthwise. Toss with lemon juice, and set aside.
Combine margarine and brown sugar in a large skillet; cook over medium heat, stirring constantly, 1 minute or until sugar melts. Add bananas; cook 2 minutes.
Turn bananas, and cook an additional 2 minutes. Sprinkle with cinnamon, and remove from heat. Heat rum in a small saucepan just until warm; remove from heat, and ignite. Pour over banana mixture and let flames die down. Serve immediately over ice milk.