V.A.718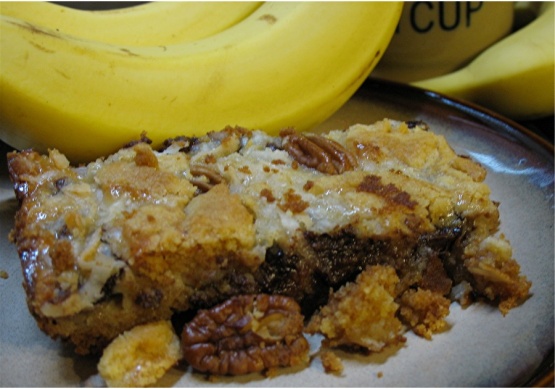 What to do with those last two bananas? Make these quick and easy cookies! This uses a yellow cake mix as a base and adds lots of goodies on top. This recipe is from Camilla Saulsbury's book Cake Mix Cookies.

These were good but they put me thru the ringer. I had the crust in the pan and had mashed the bananas and opened the sweetened condense milk only to find the color a bit odd. Oh the 2007 date on the bottom might be the reason. Off to buy a new can. Got back finished up and on my way to the oven took one last look at the directions - didn't reserve the 1c. crumbs. It was all on the bottom. Anyway all that aside and my revisions it was still good. I used a chocolate cake mix, no nuts, used peanut butter/ chocolate swirl chips instead and egg beaters. Thanks for the recipe even thru all that it was good.
Preheat oven to 350°F
Spray the bottom only of a 13 x 9 inch metal baking pan with nonstick cooking spray.
In a large bowl beat cake mix, oil and egg until well blended and crumbly.
Stir in nuts.
Set aside 1 cup of the crumb mixture.
Firmly press remaining crumb mixture on bottom of prepared pan.
In a small bowl, combine condensed milk and mashed banana; pour evenly over crust.
Top with butterscotch chips and coconut; press down firmly.
Sprinkle with reserved crumb mixture.
Bake 25-28 minutes or until lightly browned.
Cool completely.
Cut into bars.