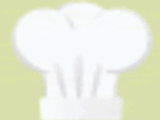 A quick snack or breakfast. From Weight Watchers. This is from an OLD WW plan of my mother's and points weren't given, but thanks, senseicheryl, for calculating them. 5 WW Pts.
Directions
Lay tortilla on flat surface and spread evenly with peanut butter and jam.
Sprinkle with coconut.
Place banana on edge of tortilla and roll up to enclose.
Wrap loosely in paper towel and microwave on high for 30-35 seconds.
Unwrap from paper towel and enjoy!