Balti Sauce - Basic Sauce for Anything Goes Curry
Jubes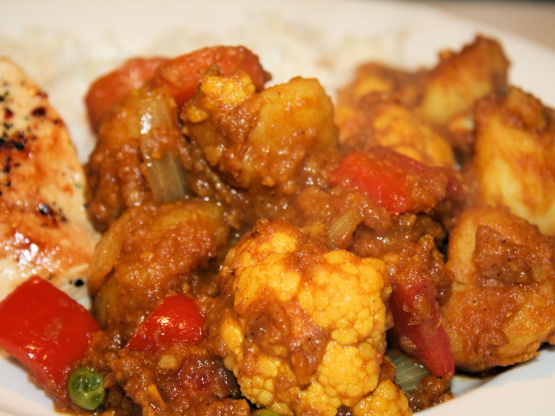 I believe the word Balti actually means "bucket"....this famous style of curry is cooked in a balti pan, much like a wok. I think the reference to bucket means more that you can throw anything in! I fell in love with balti curries years ago living in Birmingham UK - a few blocks from balti central. What sushi bars are to Vancouver, balti houses are to Birmingham. I know this is a very anglo version of balti sauce, a very mild one at that, but it is quite healthy and light....and not lacking any flavour. It's also fairly quick to prepare compared to some recipes I've tried. You can boost up the heat factor as you wish. I included mainly ready ground spices, but of course you could use whole. If you use whole cardamom seeds or whole coriander I would suggest grinding the spices up after you roast them (otherwise you have a lot of woody bits to deal with). Use the sauce to make any kind of veggie curry and serve with naan or roti on the side. This makes 3 cups of sauce - enough for 4 servings. I like to save half the sauce for a different curry later on. (good for a fridge cleaner curry! :) It also improves overnight, as many sauces do. Hope you enjoy!

Mmm!!! we like curry in our house and this is one that I will be using a lot. It had a very nice mix of spices in it but I didn't have fenugreek leaves so I added a wee bit of ground instead. I also added a teaspoon of mango chutney to sweeten it a bit and it was very nice served with king prawns and quinoa rather than rice. Thank you for posting. Made for Honor thy mother May 2011.
Measure out the 8 spices into a bowl (first 8 ingredients). If using fresh chilis then leave those out for now. Warm up a large skillet or pot (ideally cast iron) and bring to med-high heat. Gently roast the spices in the dry skillet -- watching the mixture doesn't burn, keep stirring. After about a minute it will become fragrant and begin to get dark - take it off the heat and pour back into the bowl - set aside.
Put the skillet back on the heat, add in the oil and bring back to medium high heat. Add in the chopped onion and cook thru until translucent. Once the onion is cooked, add in the ginger and garlic and mix well - watching the garlic doesn't burn. Next add the spice mixture back in, followed by the tinned tomatoes.
Mix in about 1 cup of water - you want a thick sauce, but not too paste-like. Add in the salt, bay leaves and cardamom seeds.
Grate the zest off of the lemon, add to the pot, along with the juice from 1/2 of the lemon. Save the other half for later, you may want to add more. Let it all simmer on medium-low.
For a nice smooth sauce, remove the bay leaves and blend until smooth (an immersion blender works well).