Baked Shortbread Apple Dessert
diner524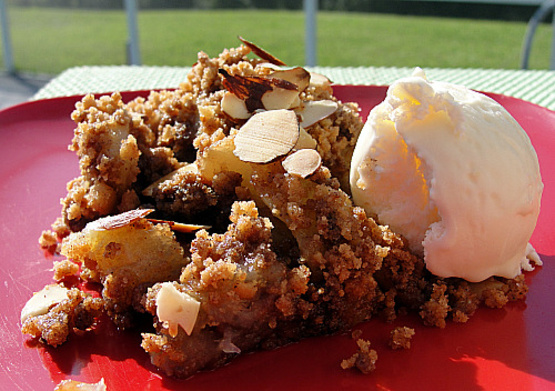 Just a lovely comforting dessert that I've enjoyed making over the years and a nice change from the standard baked apple pie. It is great using the Girl Scout Shortbread cookies too. You can also substitute the shortbread cookies with oatmeal cookies.
OMG!!! A must try recipe!! Just loved the shortbread cookies in this recipe, I used Lorna Doones cookies, which I had one sleeve of cookies leftover from a cheescake recipe I made!! I made 1/2 of the recipe, using 1 1/2 apples for the 2 cups and used the remainder of the box of cookies. Just loved the combination of cookies, sugar, cinnamon and the almonds toasted on top!!! Served with a scoop of ice cream and was soooo happy!!! I would have this over apple pie any day!!! Thanks for sharing the recipe Hokies!!!
Melt 6 tablesppons of butter in a large skillet over medium heat.
Add cookie crumbs, 1/2 cup sugar and cinnamon.
Stir over medium heat for 3 minutes.
Transfer crumbs to a bowl and set aside.
Add remaining 2 tbls. butter, the sliced apples, 1 tbls. sugar and lemon juice to skillet.
Cover and cook over medium heat until apples are tender, about 10 minutes, stirring frequently.
Heat oven to 375 degrees.
In a 2 quart casserole dish, layer half of the apples and half of the crumbs.
Top with remaining apples, crumbs and then the almonds.
Bake for 25-30 minutes or until crumbs are golden brown.
Serve warm with vanilla ice cream.