Baked Sesame Chicken Noodles
Debber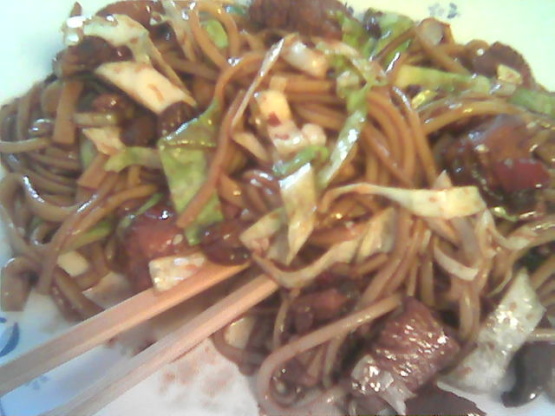 A fairly quick and easy to make casserole with an Asian flair.

This was a huge hit with the entire family!! My 7 yr old is a very picky eater and she loved it; my DH is twitchy about anything that may be "too" spicy and he declared this to have "just the right amount of heat." I stuck to the recipe as written (as I usually do when trying something for the first time) and honestly, I think it's perfect just the way it is. Thank you so much for sharing. This is definitely a keeper for our house!
Preheat oven to 400°.
Cook spaghetti according to package directions, omitting salt and fat (be sure to break pasta in half).
Drain well.
Heat the oil in a large enough skillet or wok.
Add red bell pepper strips and mushrooms, saute 2 minutes.
Add chicken, ginger, and garlic; saute 3 minutes.
Stir in soy sauce, cook 2 minutes, stirring frequently.
Combine broth and cornstarch, stirring well with a whisk.
Add broth mixture to pan and cook 2 minutes or until mixture is slightly thick, stirring constantly.
Remove from heat; stir in sherry, vinegar and crushed red pepper.
Add pasta, bok choy, green onions, and 2 teaspoons of the sesame seeds.
Toss well to combine and then spoon into an 8-inch square casserole dish that has been lightly coated with cooking spray.
Sprinkle remaining teaspoon of sesame seeds evenly over the pasta mixture.
Bake at 400° for 20 minutes.