ranada25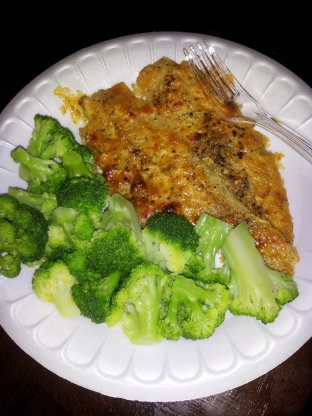 I'm always looking for ways to enjoy baked fish. This recipe works not just for pollock but for just about any fish fillet. Cook time will depend on the thickness and size of your fillets. I used frozen pollock fillets, thawed.

This really was good and so easy to make. I did learn the hard way that if you use frozen fillets to thaw and drain off the liquid first. My toppings literally floated off the fish from all the liquid that had accumulated. As a result they weren't the prettiest but still had the most awesome flavor
Preheat oven to 350 degrees.
Cover half sheet pan with foil and spray with non stick cooking spray.
Mix all ingredients except fish.
Spread mixture on one side of each fillet.
Bake uncovered for 15 to 25 minutes (depending on the thickness of you fish) till fish is done.
Brown slightly with broiler if desired.