Baked Oatmeal Carrot Cake Version
loof751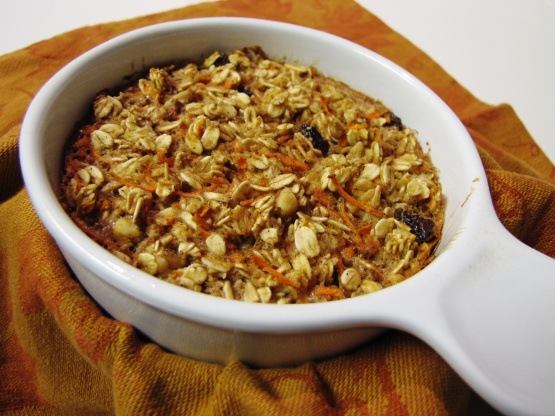 DH loves baked oatmeal so I am always looking for new ways to make it. This is my version of a recipe I fond on the internet. *10 minute cool time not included.
Top Review by PaulaG
I mixed this up the night before, covered and placed it in the refrigerator. It was set out on the counter for about 20 to 30 minutes before putting in the preheated oven. I used fresh pineapple that was chopped in the food processor and chopped the carrots fine instead of grating. In place of Splenda, I opted to use organic brown sugar. The oatmeal was served topped with a dollop of Greek yogurt. It really does taste like carrot cake.
Combine wet ingredients.
Add dry ingredients.
Bake in sprayed 8"pan at 350 for 35-45 minutes.
Let cool about 10 minutes to set-up a bit before serving.
Serve with yogurt or milk.