Baked Macaroni and Cheese with Stewed Tomatoes
Redsie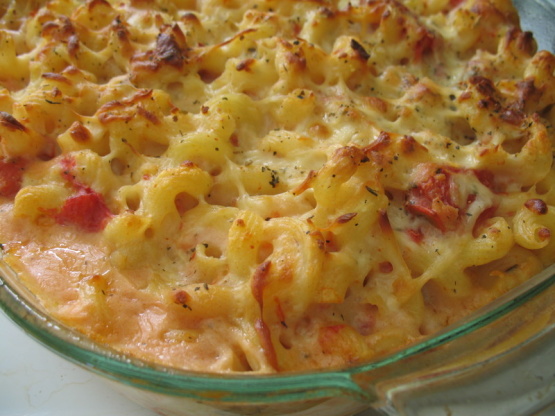 Boy, does this bring back memories! When I was in high school, they served this every Friday in the cafeteria. I guess they had to make sure we had our vegetables :) It sounds gross, but I couldn't wait until Fridays, the macaroni and tomatoes were so good together. To this day, almost 20 years later, whenever I have baked macaroni & cheese, I crave stewed tomatoes. With this recipe, I don't have to.

we loved it...even the pickey ones. Next time I make it I will use low- fat cheese and less of it
Preheat oven to 350 degrees.
Cook macaroni according to package directions and drain, rinse and set aside.
In a large saucepan, over medium heat, heat the 3 cups of milk, butter, salt and pepper until hot but not boiling.
In a small bowl or cup, combine 1/4 cup of milk with the cornstarch and stir until dissolved.
Slowly add this to the hot milk mixture, stirring constantly with a whisk.
When mixture has thickened, remove from heat and stir in 2 cups of the cheese until melted.
Pour pasta into a large mixing bowl and add the cheese mixture and the stewed tomatoes.
Mix well until macaroni is well coated.
Pour into a greased 9 x 13 baking dish or 3 quart casserole and top with remaining cheese.
Bake for 35 to 45, or until golden brown.