Grandma's Homemade Macaroni and Cheese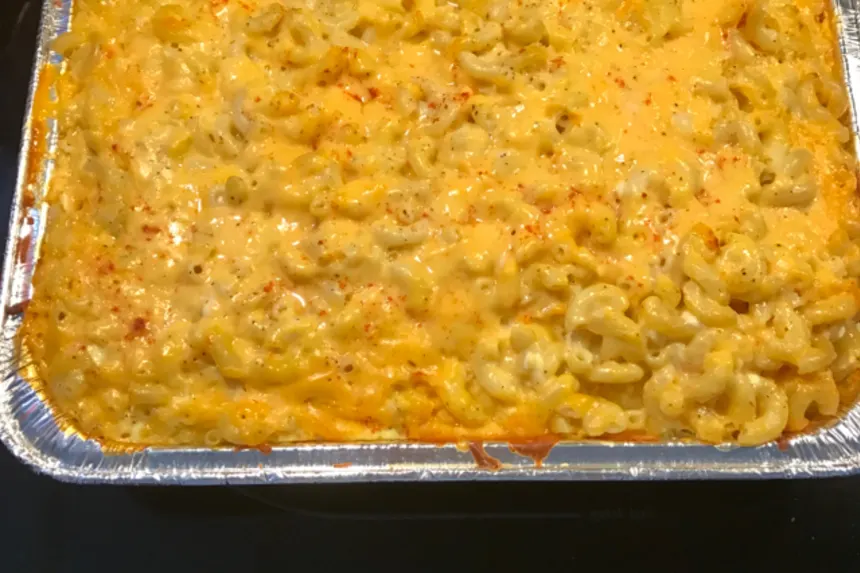 photo by jhunt0630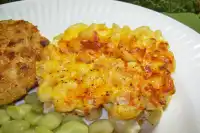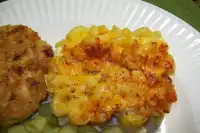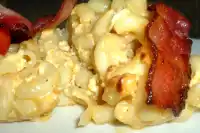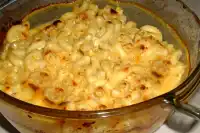 Ready In:

1hr

Ingredients:

7
directions
Cook macaroni until soft.
Use a large roast-pan or bowl which you would cook casseroles in the oven, and put a thin layer of macaroni upon the bottom, and then spread cheese over that layer, and repeat this layering process until the cheese and macaroni are gone (makes about 3-4 layers each).
Mix salt, pepper, eggs and milk together.
Pour into layered macaroni & cheese, until filled at the top (or until it is gone).
Sprinkle w/ paprika on top.
Place in oven, Bake at 350 degrees for about 45 minutes (covered).
Enjoy!
Reviews
I've made a variation on this recipe for years now. I cooked the macaroni to just barely al dente and put it in the baking dish. I mixed the milk, egg in a container. I knew my tastes differed so I added 3 tbsps of chilli oil, 1 tbsp of garlic powder, 1 tbsp of black pepper, 1 tbsp of dried basil and abit of salt. I poured it over the macaroni and then added lots of shredded mozz and cheddar cheese. Stirred it and baked for 50 minutes. This recipe if made by the book would turn out extremely bland tasting. This recipe in my opinion is meant to be a general recipe for you to build on to what you like. I also didn't have a problem with it being soupy at all, oddly enough I wish I had added more milk mixture. I gave it two stars because I think it's a good base - something to build on if you are like me and prefer spice and bold flavours.

 

I use more eggs and more cheese but then I think I have more noodles too…..I use a box and 3 or 4 eggs, 6 tablespoons of butter or more….butter gives it a rich flavor and 3.5 cups of milk. I like the custard that you get from the egg. I grew up in St Louis and I was repulsed by this recipe until a good friend talked me into trying it. Wow! What a treat to the taste buds. Not only do the eggs give it a custard base and add protein but they add richness to the flavor that plain mac & cheese lacks. So from someone who was from the other side of the table….don't knock it until u try it!

 

This was my grandma joans recipe, and i was so glad I found it! I only made a few changes... i used 3 cups pasta I only used 2 cups milk I used 8oz block of cheddar I put 4 tablespoons of pats of butter on top. After baking it covered, i then broiled it on low uncovered for about 8-10 minutes to get a crispy topping My family loved it!

 
RECIPE SUBMITTED BY
I am a student in High School, but I enjoy cooking for my family and have found it very interesting to research and find new foods. I love animals, and I love science-related stuff also. I own two cats, a dog, and have two very creative-looking fish. People often say I am a creative and very cheerful person, yet insightful and helpful. I hope I can help everyone out with their lives here- by just giving them a delightful meal ideas!
View Full Profile