Baked Cucumbers With Cauliflower
VickyJ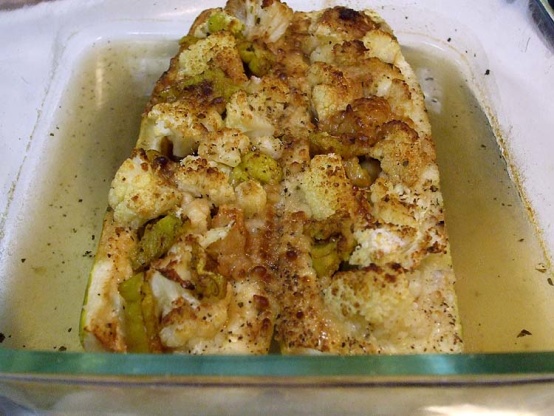 This recipe was inspired by Baked Cucumbers by Traci & Jeff Poole1. Cucumbers make a lovely hot vegetable dish and maintain their crispness when baked. You may use them much like you would a Zucchini. In this recipe I used Cauliflower but other veggies would work equally well - Corn, Carrots & peas, just about anything. Try experimenting. This first time I didn't sprinkle with parmesan cheese but I will in the future. I hate wasting those lovely Cukes and this year they have gone crazy. This may be baked in your toaster oven.

I had broccoli rather than cauliflower and thought I'd try it out. It worked out GREAT!!!! I also used a small amount of spicy brown bean paste rather than the jalepeno - didn't have any on hand. This was tasty and so easy! We will definitely have again. Thanks, Bergy!
Steam the cauliflower florets for approx 5 minutes- You want them to be crisp.
Place you prepared cucumber halves in a baking dish cavity side up.
Dot cucumber halves with butter/margarine, sprinkle with dill weed.
Divide the jalapeno and cauliflower between the two halves filling the cavities.
Season with salt and pepper.
Sprinkle on the soy sauce and parmesan cheese (if using).
Pour the stock/water between the halves on the bottom of the baking dish.
Bake uncovered in a 375°F oven for approx 30 minutes.
Time depends on the thickness of the cucumber.
Enjoy.