Baked Capsicum (Bell Peppers)
KateL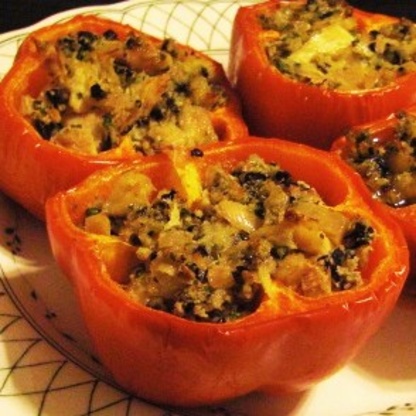 A scrumptious first course dish.. I have not faced any problems with the mixture turning out too dry, but after the 1st review, I have made a change in quantity for breadcrumbs. So, you may add/reduce as per your preference.

Top Review by KateL
4 Stars, very tasty filling, out of the ordinary, liked the tuna, although the recipe called for a lot more olive oil than I felt comfortable with. Used 1 cup fresh breadcrumbs and 1/2-pound sweet red peppers (from Costco), so filling was enough for only 2 peppers (4 halves). Made for Please Review My Recipe.
Pre-heat oven to gas mark 4/180C/350°F.
In a bowl, mix the tuna, black olives, grated garlic, chopped parsley and breadcrumbs until you have a smooth mixture.
Season with salt and pepper.
Cut the peppers in half and remove the seeds but leaving the stalks intact (they are not edible but they do look attractive and they help the pepper halves to keep their shape).
Stuff each half with 3-4 tbsp of the mixture.
Place on a well-greased baking tray.
Drizzle the top with olive oil and bake the capsicums in top shelf of the oven for about 45-50 minutes.
Remove from oven and transfer them onto a serving dish, with all the juices from the tray poured over the peppers.
Drizzle with a little more of olive oil if desired.