WiGal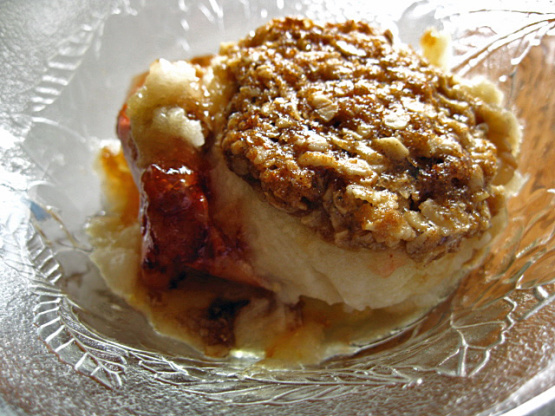 Made these with some Winesap apples my daugher brought home from the Apple Orchard. Perfect! I didn't read the directions carefully and cooked them first at 200 degrees. After 30 minutes they were still hard. Hmmmm, somebody wasn't thinking. THEN I baked them at 400 degrees which was perfect - 30 minutes then 5 minutes uncovered. They were easy and delicious!
With the rack in the middle position, preheat the oven to 200°C (400°F).
In a bowl, combine all the ingredients except the apples. Set aside.
Slice a thin layer off the top of each apple. Using a melon baller, dig out the core, leaving the bottom intact. Make a horizontal cut through the peel around each apple so the fruit doesn't burst when baking.
Place the apples on a 33 x 23-cm (13 x 9-inch) baking dish. Divide the oat mixture among the apples, spooning it into the hollows and mounding it on the tops. Cover the dish with aluminum foil. Bake 30 minutes. Remove the foil and continue baking until the oat mixture is lightly browned, 5 to 10 minutes.
Cool to room temperature. Serve as is or with vanilla ice cream.