CareCook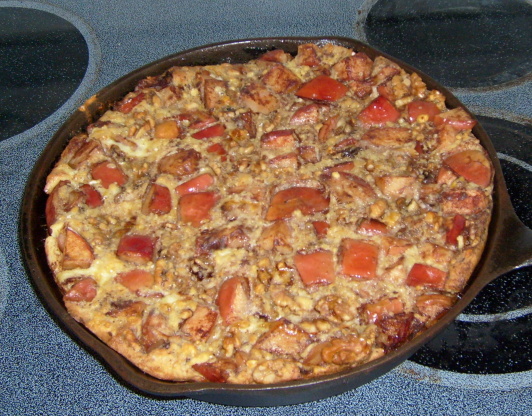 This is a recipe I have been tweaking for a few years. It resembles the Apple Pancake we would get wen I was a kid at the Pancake House in Wilmette, Il. Use a cast iron skillet. The glaze can be used instead of a syrup. This is a fun dish to make on the weekend.
Preheat the oven to 375 degrees.
In a mixing bowl, toss together the apples, walnuts, cinnamon, and nutmeg.
Beat together the eggs, flour, brown sugar, milk, and vanilla.
Melt the butter in a large cast iron skillet over medium heat. Add the apple mixture. Cook until lightly caramelized, about 5 minutes, stirring occasionally.
Pour the batter over the fruit & nuts. Transfer the skillet to the oven and bake until the cake is puffy and pulling away from the sides of the pan, about 30 minutes.
Prepare glaze (directions below). Drizzle over pancake and serve warm.
To make the glaze, in a bowl, combine the sugar, vanilla, and water and mix until smooth.
Drizzle the baked pancake with the glaze and let harden slightly. Serve warm.