Baked Acorn Squash With Cinnamon
Annacia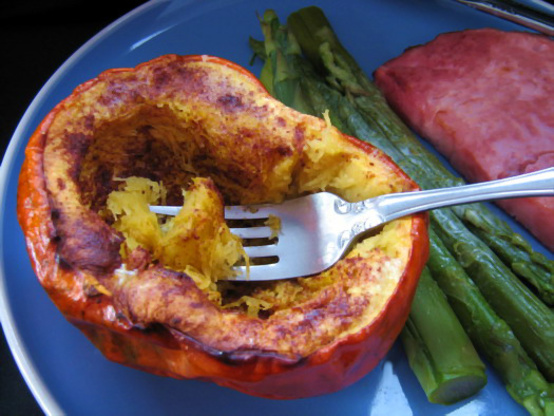 THIS says fall. Orange, crispy, with spices to make you swoon. Baked pieces look gorgeous on a beautiful serving platter. Or on your plate!

Squash comes out tender and moist by cooking this way - would definatly use this cooking method again! I used the optional raisins and they plumped up nicely while cooking. I used 1/2T oil for both squash (1/4T each). I removed them from the oven after 30 minutes and they were cooked through - although I was only cooking one squash. DH and I each enjoyed half - will be making again! Made for Pick-A-Chef Spring 2008.
Cut into halves or quarters & clean out the seeds.
Place pieces upside down in baking dish.
Pour 1/4 inch water into baking dish.
Microwave for 8 minutes, turning once.
Remove carefully (hot!).
Transfer *right-side up* to foil-covered oven platter.
Brush each semi-squishy piece with oil.
Then sprinkle with cinnamon & nutmeg, to taste.
Optional: Sprinkle raisins over the spices, remembering that raisins are high in sugar (in case diabetes is a concern).
Bake at 350 for 25 minutes, or until the acorn squash looks golden and crispy.