Tisme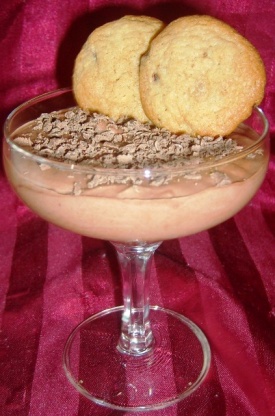 This can also be used as a mousse, it's fairly flexible. I'd like to try folding in some fruit or something for an elegant dessert.
Whisk egg white with the pinch of salt until thick. Add the sugar, beat until glossy and forming stiff peaks.
In another bowl, beat the cream until it starts to thicken. Add the Baileys and drinking chocolate, beat again until everything is incorporated and the mix is nice and thick.
Gently fold the egg white mixture into the cream mixture, combining thoroughly.
Serve topped with grated chocolate, with apple wedges and wafer biscuits to dip. Yum!