Nif_H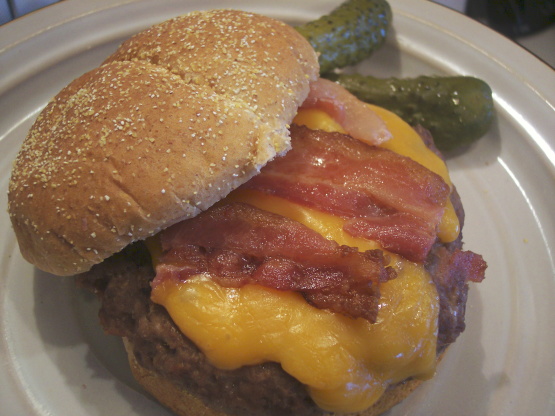 I got the basic recipe from a friend and jazzed it up a bit. His recipe called for Bacon Bits and I used real bacon, baked in the oven. One of the best burgers I have made. I recommend baking the bacon in th oven instead of pan frying.

Top Review by Nif_H
Verrry nice burger! I made 1.5 times the recipe for the 4 of us and made exactly as directed, using home-ground sirloin beef. I thought the bacon mixed into the burger might be too much, but it wasn't. I might add in a bit of ground pepper and use the garlic powder (forgot it!) next time, but that's about it. Very nice, beefy supper that my hubby and boys LOVED! They are very large so that was important to them too! Made for New Kid on the Block. Thanks CattieCann! :)
For Bacon: Preheat the oven to 375 degrees.
Line a cookie sheet with aluminum foil and parchment paper (this saves on clean up time).
Place all the bacon on the cookie sheet and bake for 10 minutes. Check the bacon; you might have to bake it for about 5 minutes more.
Take bacon out of the oven (leave the oven on; but turn it down to 350 degrees) and let cool on a paper towel covered plate. When cool enough to handle, chop 6 slices of the bacon into small bits. There should be 2 to 3 extra slices put aside for topping the burger.
For the Burgers: In a medium bowl, mix together the ground beef, egg, breadcrumbs, chopped bacon, and sea salt. Divide into 3 patties.
Sear the patties on the stove top; 3 minutes for the first side on medium-high heat. Then turn the heat down to medium and sear the second side for about two and half minutes.
Then, put the seared burgers on a cookie sheet lined with aluminum foil and parchment paper and pop into the oven for about 15 to 20 minutes.
After 15 to 20 minutes take the purger out of the oven. Place on a plate covered with paper towels and let drain for a minute or two.
Put on toasted bread, buns, or whatever you like to eat a burger on and top with you favorite condiments. Don't forget the 2 to 3 slices of bacon tha twas put aside.