Bacon and Bagels (Low Fat)
Nimz1466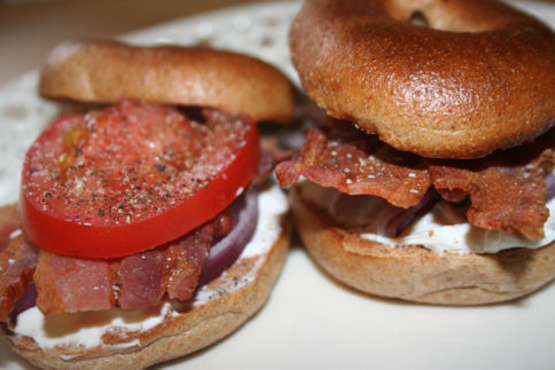 This is a VERY easy breakfast that I paired down the calories count. I love making it because it's easy to clean up and prepare. I haven't had them in years, but I'm always looking for something new to do to so my girlfriend won't get bored with the standard favorites. (Also great for breakfast in bed...). You can certainly disregard the "Lower-Cal" style and go with Regular Bacon, Regular Cream Cheese and Regular Bagels. If you try it, let me know what you think.

i relly loved it i thougt it was very creative.why dont you make more for me to make that was briliount
Add a bit of oil in a frying pan at medium high heat. Fry the Turkey Bacon to desired crispiness, (I like it a bit crispier for this recipe) you can also cook the bacon in the Microwave is you wanted to. While cooking the bacon, slice and open the bagels and toast in toaster or Toaster Oven. When Bacon is done to desired crispiness, drain off excess grease. Cut bacon strips in half (width wise). Spread Cream cheese, on one or both halves (i do it on both). Add 1 slice of tomato and both bacon halves and make in to sandwiches and they are ready to serve.