loof751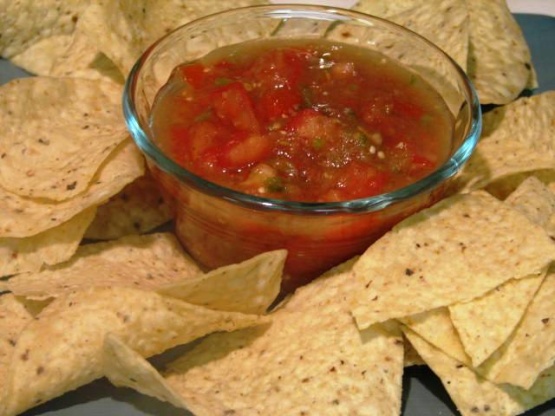 Friends from work used to hire me to make this salsa for work functions as I always used fresh ingredients from my garden, it is so fresh & healthy I hope you enjoy it! Sadly the bunnies & squirrels have discovered my garden site & I no longer have one... Fresh from the garden is best! This recipe will feed a crowd, it has just enough kick and lovely flavor from the habeneros so add at least one if you're a bit chicken. I often use some of the salsa in omelets the next day - or add to tacos, etc. It will only last a few days as other than salt there are no preservatives so make it the day you plan to eat it for best results.

This is a terrific salsa! I scaled it down to 1/3 of the recipe since there are only 2 of us eating it, but I used a whole habanero because we love them! This had a nice kick but was not overly spicy, and I enjoyed the tartness that the lime and tomatillos gave. Easy-to-make restaurant-quality salsa - thanks for sharing your recipe!
Dice tomatoes by hand (food processor pretty much liquefies them so it's best to dice by hand),
chop onion into small bits unless you prefer smaller,
then throw into food processor with garlic & peppers & pulse until desired texture.
Thoroughly wash, drain & chop cilantro, add all to a large serving bowl.
Squeeze the limes over everything (don't forget the salt as it completes & enhances the flavor), mix well & enjoy with Mission tortilla chips (those are best unless you have home made).