Prep 10 mins
Cook 15 mins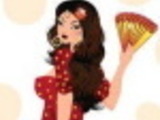 Adapted from Group Recipes (chefmeow)
Make and share this Baby Teriyaki Potatoes recipe from Food.com.
1 tablespoon butter, cut into pieces
1 tablespoon teriyaki sauce
1⁄4 teaspoon garlic salt
1⁄4 teaspoon italian seasoning, crushed
1⁄8 teaspoon fresh ground black pepper
1⁄8 teaspoon red pepper
1 pinch rosemary
Directions
Wash potatoes then scrub thoroughly with a vegetable brush.
Cut potatoes into quarters then place in microwave safe casserole dish.
Add butter, teriyaki sauce, garlic salt, Italian seasoning, black pepper and red pepper.
Toss to combine then cover and microwave on high for 15 minutes stirring twice.
Stir before serving then garnish with rosemary and serve with sour cream.