diner524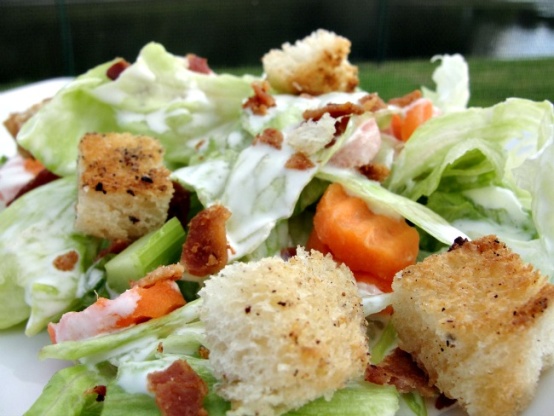 Boston lettuce and homemade croutons are the key to this salad. I make this often, especially good in the spring and summer.

Excellent! The dressing is so simple, yet so, so easy....I followed this exactly and if you do too, it will be so yummy, you will be climbing back in the fridge to get out more lettuces. How is it to blend together fresh lemon, garlic, and mayo. The dressing makes more then you think, but I put my extra in a bottle and it kept for 2 days. Thank you!!
Cook bacon in skillet until crisp.
Reserve 2 tablespoons bacon fat in skillet, drain and crumble bacon.
Cut bread into 3/4 inch cubes to measure 2 cups.
Heat fat over medium heat and saute bread cubes, seasoned with a little seasoning salt, stirring until golden brown.
Transfer croutons to paper towels, set aside.
In a small bowl whisk together garlic, lemon juice, mayonnaise and water and salt and pepper to taste.
Tear lettuce into bite sized pieces, add tomatoes, onion, bacon, croutons and toss with dressing.
Serve immediately.