Avocado With Spicy Crabmeat
JustJanS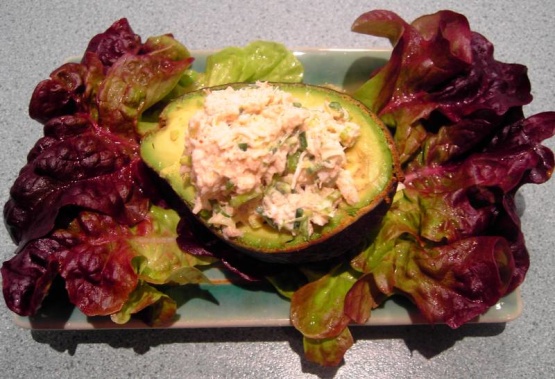 This is just so simple to do and is a nice starter. You could always cut up finely a red or green chilli if you like things hot. Best made close to serving

Latchy this was a very nice light salad that went well with our grilled fish meal. I did all a little extra sour cream because it was a little dry. I also sprinkled lemon juice on the avocado before filling with the crabmeat mixture. Thanks for a great recipe.
Combine the crabmeat, green shallot, sour cream (or yoghurt) and cayenne pepper in a bowl.
Spoon the crabmeat mixture evenly among avocado halves.
Place avocado halves and lettuce leaves in a shallow serving bowl and season with pepper.