Avocado With Scrambled Eggs
Junebug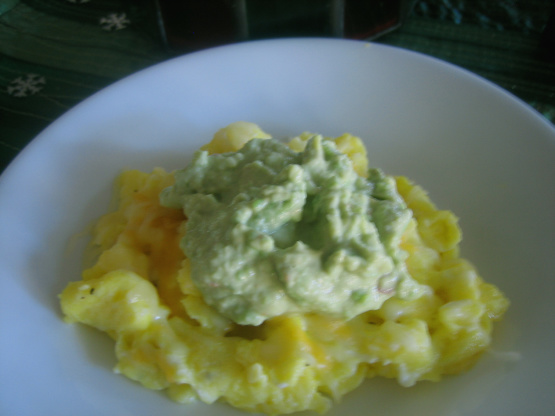 The combination of the cool creamy avocado dip with the warm and cheesy scrambled eggs is heaven! It might seem like a strange combo but you'll be so glad you tried it. I first had this at a restaurant 20+ years ago, loved it then and love it now. Great way to use up leftover avocado dip (real stuff, not the stuff sold at the grocery store, unless you like that) and your favorite cheese!

Very simple to make and absolutely scrumptious. This recipe elevates the often rather homely scrambled eggs into the gourmet class! Three friends and I enjoyed this for a leisurely Sunday brunch. I made my scrambled eggs with some minced garlic, fresh basil and cream, and served them topped with Rita L's Avocado Cucumber Dip! Recipe #131699. The scrambled eggs and dip tasted great together. No-one felt inclined to add the cheese, but I'll try this with cheese next time I make this, perhaps by adding it in with the scrambled eggs. Thank you for sharing this great recipe, Susan!
Melt the cheese on top of your scrambled eggs, remove to your plate and top with the avocado dip.
My dh likes to put hot sauce or picante sauce on top!