Avocado and Kohlrabi Salad
Julesong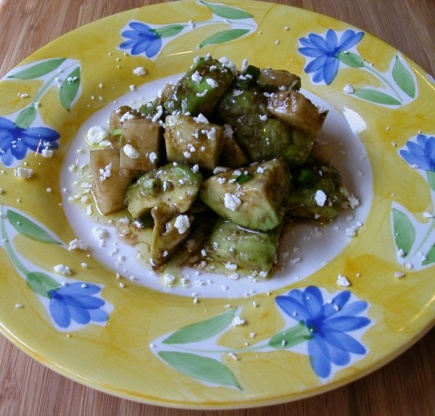 I love both avocado and raw kohlrabi, so this salad is a favorite of mine. Enjoy!

I made a variation of this as I had avocados and kohlrabi which both needed to be used up but no feta cheese or lime juice. Instead I used lemon juice and shaved in some parmesan towards the end -- a very nice combination and I'm sure the feta/lime mixture would be equally good. I do think 3 kohlrabi bulbs would be a bit much though. I had one with 2 avocados and it was plenty, both in terms of a ratio in the salad and also in terms of how much it made it total. We had enough for 4 appetiser servings. If you wanted a meal-sized portion you would have to add more but I personally would also increase the amount of avocado.
Peel the kohlrabi by cutting off the top and bottom, and peeling with a potato peeler.
Cut into 1/4-inch-thick slices, then cut the slices into chunks.
Place in a bowl.
Cut avocados in half lengthwise.
Tap the blade of a heavy knife in the pit, twist to remove, and discard.
Quarter and peel avocados, then cut into chunks.
Drizzle lime juice over avocados to prevent browning and to add flavor; set aside.
Whisk together green onion, balsamic vinegar, oil, garlic powder, and salt and pepper to taste.
Pour dressing over kohlrabi and mix to cover.
Mix together the chunked avocados and the kohlrabi mixture.
Make a bed of the salad on four plates, and sprinkle each with feta cheese.
Serve and enjoy!