Authentic New Mexico Green Chile Stew
Brad P.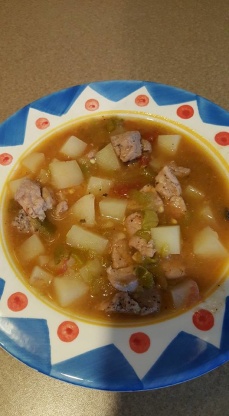 i first had this when i went to albuquerque to visit family 15 years ago...wow is this good!! after several attempts to recreate & falling short i've finally perfected it...at least in my mind but i haven't had the real stuff in over 8 years :( this recipe is so tasty and worth the time it takes to put together...try it out!
Top Review by Tim C.
We make this often when Hatch chiles are in season. As others have stated I roast hatch chiles over mesquite. I claim the best results are acheived by using a milder Hatch chile like a Big Jim and then bringing the heat up according to you tastes with a Barker or Sandia. Skip the Jalepenos. Skip the beer. Also, I prefer a beef stew, so I use beef broth instead of chicken. Potatoes make this recipe! I use as many potatoes as the remaining liquid will bear. Garnish with cheese, cilantro and sour cream. A twist of lime just before serving with crusty bread or warm tortillas. Yum!
Broil green chiles in the oven turning often to evenly darken skin making sure they don't burn.
Remove from oven and cover with a dish cloth for 10 minutes to steam the skins off.
While the chiles are resting, cube the meat, sprinkle with salt & pepper and brown with onions & garlic in oil in a large pot for 5 minutes.
add jalepeno, broth, half a can of beer, spices.bring to a simmer.
let simmer for 1 hour.
Peel skin from chiles, chop and add to the pot (including the seeds).
Let simmer for 30 minutes then add the tomatoes & potatoes (add a cup of hot water if needed).
Simmer until potatoes are done.
melt butter in a small skillet & add flour, cook for 2 minutes stirring constantly -- add to the pot.