Leslie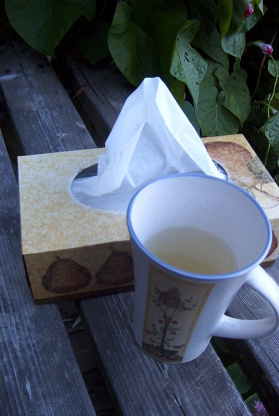 A friend gave me this remedy when I had the flu & demanded I go home & drink it! I took two panadols before & I swear I felt so much better afterwards. And it tastes yummy too!
This recipe is so old that Father Time doesn't remember its origins! Just about every culture claims it, so we can all call it "Grandma's Soothing Remedy". The healing properties for the mixture are much better without the sugar -- which is chemically processed and refined (even brown sugar), and adds difficulty to digestion. Raw, uncooked honey is a natural antisceptic. So, if you leave out the sugar, your results will be that much more powerful. Also, for added sweetness, try wildflower and orange blossom honey. Feel better!
Cut the lemon in half& squeeze all the juice into a mug- chunks& all.
Add the sugar& honey.
Fill the mug with boiling water& stir to dissolve.
Take two parecetomol tablets& sip the drink until it's all gone.